This article will tell you all the technical specifications related to the ImoLaza controller.
What's included?
ImoaLza Smart Sprinkler Controller
    . Weight: 345g (0lb 12.16952oz)
    . Dimensions: 6.3" x6.3" x 1.2"
Power Supply with Cord
Mounting Hardware:
    . Positioning paper
    . User Manual
    . Wire Label Sheet
    . Power Adapter
    . 3 Screws and 3 Anchors
    . Screwdriver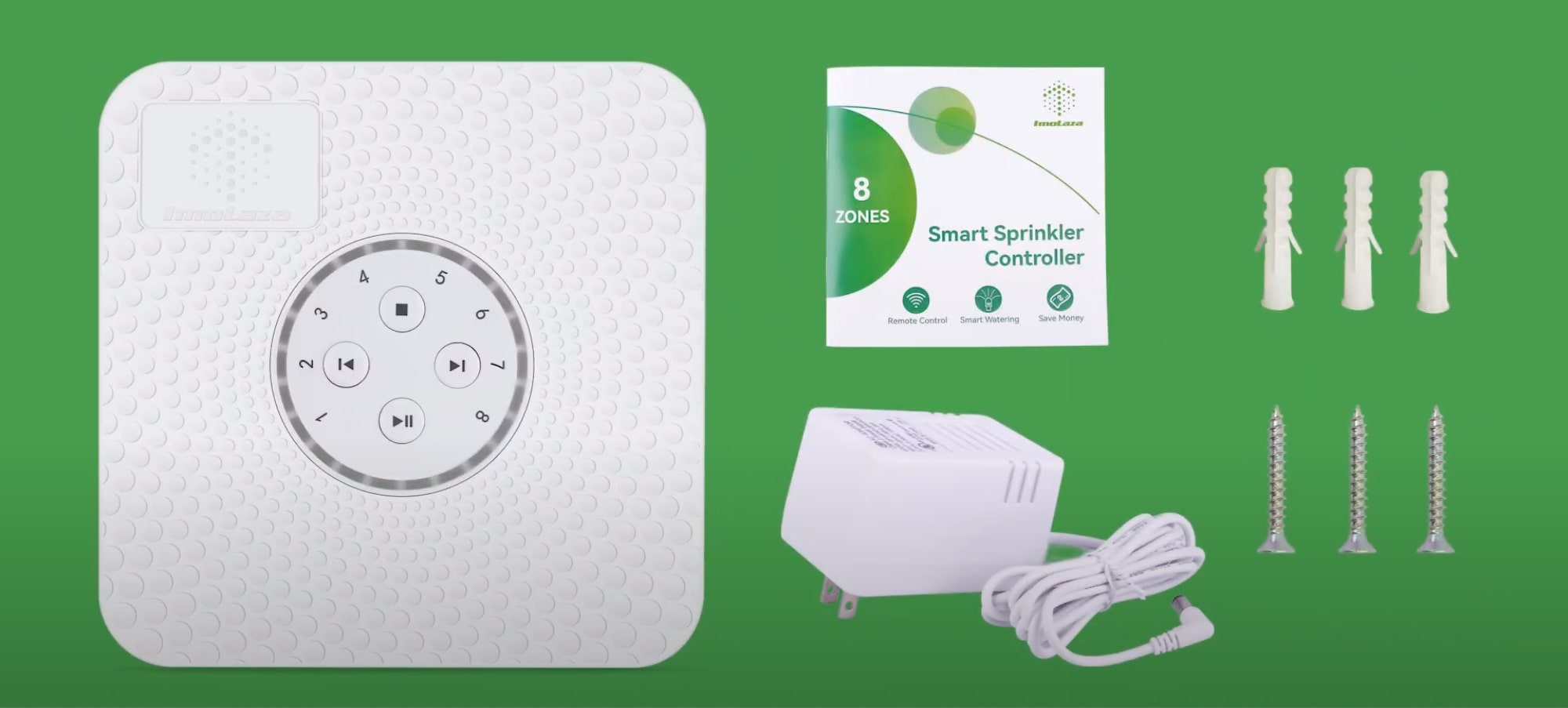 App Compatibility
The ImoLaza App lets you connect the controller to your home Wi-Fi. It runs on iOS 11.0+ and Android 7.0+.
Wi-Fi Connection
Requires 2.4 GHz wireless network signal available at the installation location.
Does ImoLaza works with 5G Wi-Fi?
How do I update Wi-Fi on my controller?
Solve Wi-Fi Networks can refer to the following solutions.

Power Requirements
The ImoLaza controller must be connected to the AC power adapter included. DC Transformers are not supported.
Power Supply: External Transformer
Transformer input: 120 VAC ~60Hz 28W
Transformer output: 24 VAC 1000mA
Zone output (24 VAC): Compatible with 24VAC Solenoids
Wire Compatibility
ImoLaza supports 14-20 AWG gauge wires.
Hardware Compatibility
ImoLaza is compatible with
Master valve/pump relay
Rain Sensor: Wired & Wireless Normally Closed (NC) Rain Sensors
Rain Sensor FAQs
Water Delay, Skip, Rain Sensor, Weather Intelligence. Who dominates?


Zones/Model Numbers
4 & 8 & 12 & 16 zones
How to set up a zone?
How to disable/enable a zone?

Warranty
2-year limited warranty.
Optional Outdoor Enclosure
If your controller is installed outdoors, it is recommended that you purchase an outdoor enclosure to protect your controller.
Safty temperature: -13°F to 140°F
Still need help?
In case the above method doesn't work for you, please contact our technical support team directly using the contact information below. We will respond to you by email within 12h after your message reaches us.
Email: Support@imolaza.com